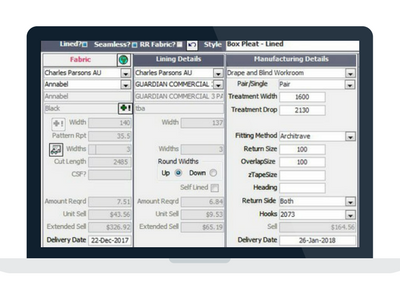 FAST QUOTES
It all begins with the customer and the quote. Drape and Blind software is the most
comprehensive quoting system on the market for all window coverings products.
Set up customer contact details or import from your accounting system
Record referral data for marketing/advertising ROI reporting
Quote anywhere using mobile modules without the internet or on DBs cloud with Android, IPAD or PC/Tablet devices
Comprehensive treatment list including additional items associated with each treatment style
Ready to use quoting forms specifically designed for each treatment
Best fully featured curtain/drapery quoting functionality on the market
Inbuilt formulas to calculate accurate fabric quantities and costings
Ability to manually override curtain allowances and fabric quantities and drops while quoting
Inbuilt maximum size warnings to prevent unavailable products being sold
Store all window measurements for easy reference against the quote
All your branded fabric, curtain and blind supplier products and prices are stored in the system
Functionality to copy quotes and substitute products and fabrics and provide comparison quotes
Easily check profitability, margins, and discounts before issuing quotes
Alter/override markups and sales price on the whole quote or specific products only
Manually enter costs for items not in the system
Several professional quote styles to choose from with your company logo
Customizable quote style available
Show or hide sizes and other details on quotes
Option to print or email quotes
Compatible with blue tooth laser measuring devices
Supplier product manuals can be referenced while quoting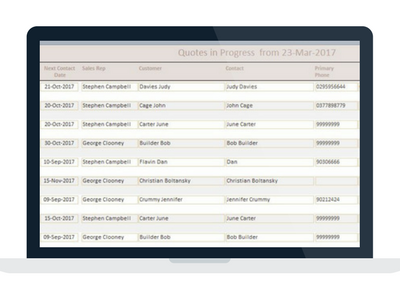 QUOTE TRACKING
Customer followup is an important part of the sales process.
See all pending quotes on one the screen
Display all customer details for easy follow up
Add customer conversation notes and details for reference so anyone in your business can get up to speed on the quote
Set next contact date reminders
Ability to sort by customer name, quote date or number, next contact date
Reject or approve quotes from the tracking screen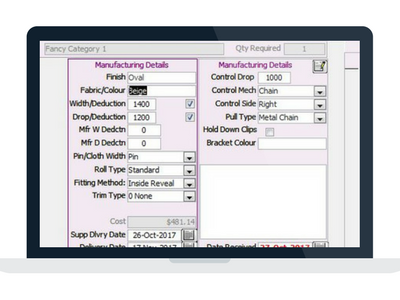 INSTANT ORDERS
Orders are automatically generated from approved customer quotes avoiding double handling and mistakes.
Each order is designed specifically for the treatment/product type
Many different order styles available
Manufacturer specific order styles available
Preview and check orders before emailing manufacturers and suppliers
Installer worksheets with product pick sheet and installation instructions can be emailed to the installer
Ability to add comments or special instructions on manufacturers, fabric suppliers, and installer orders
Fabric orders display cuts so that the fabric supplier will send rolls with the correct cuts
Fabric orders can direct different quantities of same fabric to multiple workrooms
Check measure orders cannot be accidentally sent to suppliers
Remake orders can be generated instantly from order screen and then amended and resent to the maker
Files can be created and sent to manufacturers to import directly into their system
Curtain delivery labels can be printed for manufacturers to pin to completed goods for easy identification
Supplier reference numbers and amended delivery dates can be added to the order screen
Orders can be rolled back and re-generated if necessary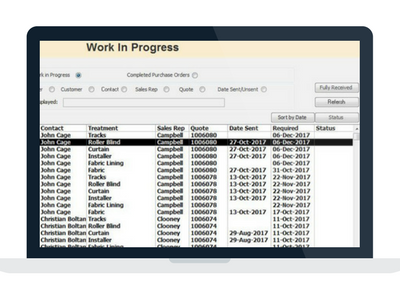 ORDER TRACKING
Purchase order/work in progress tracker displays an overview of all orders within the workflow process to help you get the work out efficiently.
Customer jobs and all associated purchase orders and supplier details are displayed for easy reference
Partially or incomplete orders are identified
View required by date, ordered date for each job to avoid orders running late
Jobs can be sorted by customer name, supplier, quote number, order number and delivery date
Orders that need to be sent can be accessed directly from the order tracking screen and then printed or emailed
Manage suppliers easily as orders that were received later than the required by date are flagged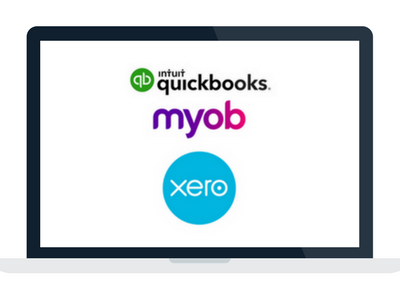 ACCOUNTS INTERFACE
Send accounts receivable and payable transactions directly to your accounting system.
No set-up required by you, we do it for you
Compatible with Quickbooks, MYOB, and XERO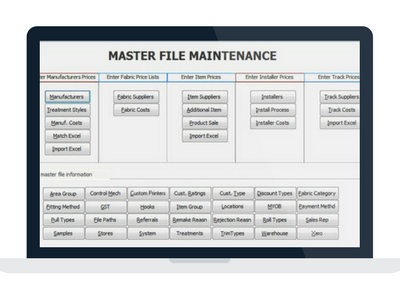 MASTERFILES - PRODUCT AND PRICING
The engine room that drives Drape and Blind software is set up for you and ready to go. We train you to be
the master of your information so that you can be in control and make any changes you want.
Suppliers, treatments, products, and pricing are set up for you with your costs, markups, and discounts
Additional items for each product are included in product set up
The system caters to each manufacturers pricing calculation methods for curtains/drapery, shutters, venetains, pelmets etc.
View blind prices in grid format at cost or retail
Add alerts to pop up during quote creation to notify you about horizontal blind joins or railroaded fabrics.
Flexibility to adjust markups and discounts for each supplier and or individual product groups within the supplier
Fabric suppliers minimum orders and rounding can be set to avoid small order charges
Curtain/drapery allowances are customised to your workroom's requirements
Create installer processes and assign appointment duration times to total up on the installer worksheet
Lining inventory can be set up with reducing stock control
Sample tracker can be set up with bar coding and reporting to keep track of fabric sample books that have been lent out
Manage account settings and system variables that can be turned on or off depending on your business
Masterfiles can be password protected and the quote margins screen can have restricted viewing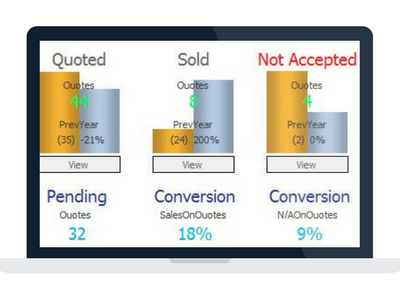 MANAGEMENT REPORTING
Information is king and having data at your fingertips is vital to running a successful window coverings
business in the 21st century.
Internal dashboard available to review and analyze data, week to week, month to month and years.
Ability to access and customize data in a flexible way i.e graph or report format
Power to drill down to actual quotes for more information.
Export sales data to excel and use the information to customize commission reports
Standard reports available to filter by date range
Report on estimated and actual profit by consultants
Report on estimated and actual profit by product
Report on sales conversion by consultant
Report on referral to measure ROI on advertising
Report on remakes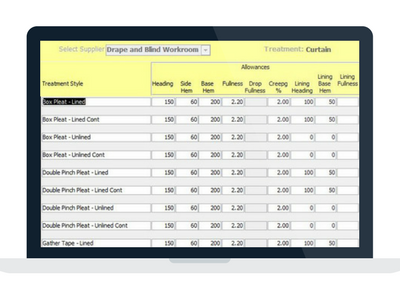 SETUP, UPDATES, AND MAINTENANCE
We begin by totally customizing Drape and Blind Software with your product, pricing, and markups
The system comes fully loaded ready to for you to do your first quote. We then continue
to maintain your information for you to keep your system relevant and updated.
Curtain/drapery soft furnishing fabric updates available
Blind prices list updates available
Software updates available
Our support is unconditional and free
As a Drape and Blind Software customer, you receive full training and support,* with additional training for new staff available at any time.
Check out the benefits here of having Drape and Blind Software installed in your business.
* Conditions apply